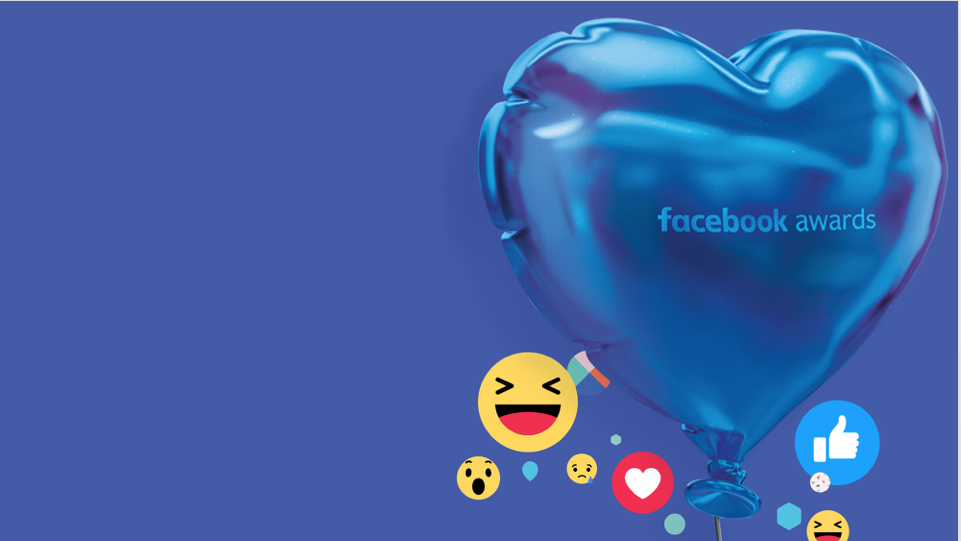 The Facebook Awards celebrate the work that made us laugh, cry, wow, and buy.
The 2017 Facebook Awards are now open for submission. This year, it's all about the work that moved people. Facebook is recognising some of the best creative work on Facebook, Instagram and Audience Network based on how it made people feel and how it helped businesses grow – the work that made our community laugh, cry, love, wow and buy.
Facebook is introducing new awards categories and a new trophy design to reflect the emotions evoked by great creative campaigns.
Read on to find out what's new in 2017, and how to 
submit your own
 creative Facebook or Instagram campaign
New categories of emotion
The online community expresses their emotions using Facebook reactions. And the new awards categories are inspired by the emotions those reactions evoke. How did your work move people?
Laugh


This is the work that made us laugh – the work that captured our attention, got us to crack a smile and really caused us to "LOL". It made us feel good and took humour to the next level.

Cry


This is the work that made us cry – the work that got us all emotional, inspired compassion and helped us see things differently. It made us think and connected with audiences through storytelling.

Wow


This is the work that wowed us – the work that showed us something we'd never seen before. It made our jaws drop and forged new paths for a brand's presence on Facebook's platforms.

Love


This is the work that made us fall in love with a brand – the work that spoke to us where it counts. It won our hearts and improved brand sentiment and perception.

Act


This is the work that moved us to act – the work that woke us up and made us do something. It inspired action and a change in behaviour, and had a measurable impact on sales or related metrics.
A new trophy design
This year's reimagined trophy reflects the heart behind work that matters. The metallic heart-shaped balloon design was inspired by the playful futurism of Anish Kapoor and Jeff Koons. And Facebook collaborated with 
Design Bridge 
to bring the concept to life.
Looking back at the 2016 Facebook Awards
As we look forward to this year's awards, what insights can we take away from last year's winners?
Video was king across every region, with the strongest entries incorporating a Facebook video component. Some of the most effective content focused on humour to drive consumer interest and interaction. It was an impressive turnout, and we can't wait to see what 2017 has in store.
Show us what you've got
You've already done the work – now it's time to get recognition. So, what makes a campaign a prime candidate for the Facebook Awards? The answer is three-fold: It uses the Facebook platforms in innovative ways to tell compelling stories; it establishes deep emotional connections with people; and, ultimately, it builds powerful brands that drive business results.
This year's submission period opens on 21 March 2017 and closes on 28 April 2017
. Visit 
facebookawards.com 
to learn more about the entry process and submit your work.