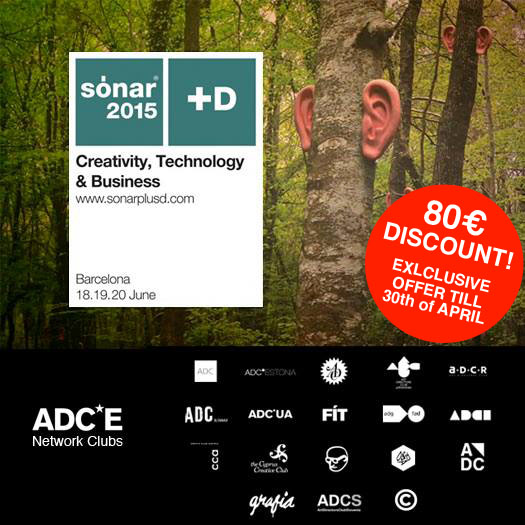 Extendend exclusive offer until 30th of April
Discover Sónar and Sónar+D with your Pass at a reduced price
Thanks to the partnership between the Art Directors Club of Europe, its member clubs and Sonar Festival Barcelona to promote networking opportunities among related communities around the creative industries, we are offering 30 accreditations with 80€ special discount deal for Sónar 2015.
Promotional Price 200 euros. (Price without promotion 280 euros)
Promotional accreditations will be assigned on first come first serve basis.
Accreditations give full access to Sonar+D & Sonar:
Sonar+D, The International Congress of Digital Culture and Creative Technologies and one of the unmissable European events for discovering the technologies, people and initiatives that show the state of the art of creativity in its multiple fields. Watch video 
Sonar, A pioneering festival with a unique format and content. A carefully balanced cultural offering, combining a playful nature, the avant-garde, and experimentation with electronic dance music's newest trends.
Ask for your accreditation by contacting the ADCE at beggy@adceurope.org
This special deal is valid until 30th of April 2015.
¿Need help with accommodation?