Save the date. L'8 maggio 2018 presso l'Auditorium Orizzonte Europa di BNL – Gruppo BNP Paribas a Roma andrà in scena The brand must go on.
Un evento co-ideato da BNL – Gruppo BNP Paribas e Plural, con il patrocinio di ADCI, per condividere le più importanti case history nel mondo dell'engagement ed entertainment strategy, riunendo in un'unica giornata brand, media e diversi universi narrativi.
Un'iniziativa che si avvale della media partnership di Ninja Marketing e Wired.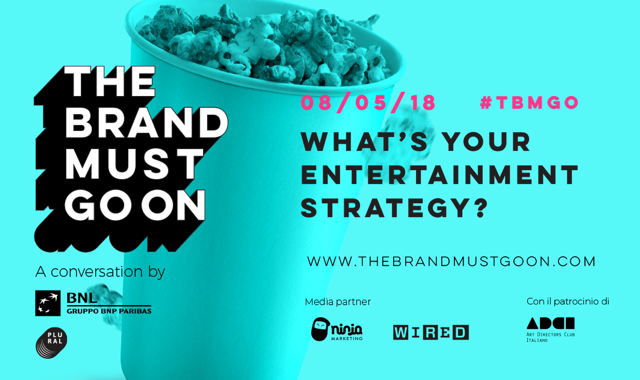 Più di 12 speakers e 8 speech in una sola giornata.
Si partirà la mattina con lo speech di Andrea Scotti Calderini, Co-Founder e Co-Ceo di Freeda Media, che parlerà di cosa accade quando le aziende vogliono collaborare con l'universo narrativo del canale, per proseguire con Roberto Ferrari, Head of Digital Communication Strategy di Eni che parlerà del Caso Eniday. La mattinata terminerà con Elena Grinta, autrice del libro "Branded Entertainment – La rivoluzione del settore Marcom inizia da qui" che introdurrà il tema della sostenibilità del branded content.
Nel pomeriggio, largo agli autori. Valerio Bergesio, regista e responsabile creativo del branded content in Lux Vide, parlerà insieme a Marco Diotallevi del caso "Complimenti Per La Connessione", lo spin off di Don Matteo dedicato all'alfabetizzazione digitale andato in onda prima serata su RaiUno. A seguire Francesco Taddeucci, Direttore Creativo Superhumans e Autore/Conduttore per RaiRadio2/Sociopatici, ci racconterà cosa accade quando un'azienda vuole collaborare con un universo narrativo radiofonico.
Ultimo intervento quello di Marianna Ghirlanda, Head of Creative Partnership di Google, che insieme a Vincenzo Piscopo, Head of Branded Content di CiaoPeople/The Jackal, ci racconterà come YouTube ha cambiato e ispirato i linguaggi dell'intrattenimento.
La giornata sarà presentata dall'autore e attore Fabio Morici e terminerà con una tavola rotonda condotta da Aldo Pecora, direttore di Ninja Marketing. 
I posti per partecipare all'evento sono limitati. Per scoprire il programma dettagliato e prenotare il vostro biglietto gratuito, visitate thebrandmustgoon.com.